You know how I feel about the Doctor. You know that he is the butter to my bread. The salt to my pepper. The Cher to my Sonny. I love the Doctor, in every incarnation, and yet still I say unto you: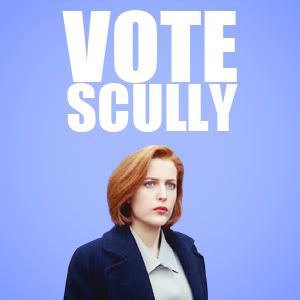 My adoration of Dana Scully is the reason I first discovered fandom all those many years ago, and while Fandom March Madness may be silly, I feel like it's an excellent opportunity to prove that there's more to fandom than just a collective fascination with misanthropic white dudes who have sex with other, slightly
less
misanthropic white dudes. So I'm stumping for
Dana Scully
,
Troy Barnes
,
Kelly Kapoor
,
Leslie Knope
,
CJ Cregg
,
Annie Sawyer
,
Olivia Dunham
, and
Caroline "Vampire Barbie" Forbes
.
In short,
Vote Scully
. You know the Doctor would want you to.